Welkom op computerworld.nl!
Wist u dat u met een gratis Insider-account altijd op de hoogte blijft over al het nieuws, achtergrondartikelen, opinies, interviews en events rondom IT?
Schrijf u nu gratis in »
De beste nieuwe features van Windows Server 2016 (tot nu toe)
Met elke nieuwe versie wordt het pakket completer.
Van Nano en Docker tot software-defined networking en nieuwe opslag-mogelijkheden, de volgende versie van Windows Server zit vol met mooie nieuwe toevoegingen.
De beste nieuwe features van Windows Server 2016 (tot nu toe)
Van Nano en Docker tot software-defined networking en nieuwe opslag-mogelijkheden, de volgende versie van Windows Server zit vol met mooie nieuwe toevoegingen.
Microsoft blijft Technical Previews uitbrengen van Windows Server 2016 met splinternieuwe mogelijkheden. In de laatste Technical Preview, TP3, zitten allerlei nieuwe dingen, zoals Docker integratie en Windows Server Containers, maar ook verbeteringen van zaken die in vorige versies zijn geïntroduceerd. Daarnaast zitten er nieuwe beveiligings-features in, zoals Shielded VM's, die de inhoud van virtuele machines beschermt in een multitenant omgeving.
Computerworld selecteert hier de beste Engelstalige verhalen uit ons internationale IDG-netwerk.
The TP2 release debuted Nano Server and a number of Hyper-V, networking, and storage features. It introduced a new Windows Server role named Host Guardian Service, which flags trusted Hyper-V hosts, and included a Windows Server Antimalware feature not found in previous previews. Forthcoming Technical Previews will bring more new features, notably Hyper-V Containers.
But while the hits keep coming and the complete picture of Windows Server 2016 is still forming, it's not too soon to weigh in on some of our favorites. We'll update this list as more Technical Previews, and eventually beta versions, arrive. In the meantime, here are the Windows Server 2016 features we like the most.
Containers
Technical Preview 3 provides the first look at Windows Server Containers and includes everything you need to get started testing this technology on Windows. Installation requires only two commands in an elevated PowerShell window:
wget -uri https://aka.ms/setupcontainers -OutFile C:\ContainerSetup.ps1
.\ContainerSetup.ps1
It's important to note at this point that Microsoft supports two different container models: Windows Server Containers and Hyper-V Containers. Windows Server Containers use the standard Docker concepts, running each container as an application on top of the host OS. Hyper-V Containers will be completely isolated virtual machines, incorporating their own copy of the Windows kernel, but more lightweight than traditional VMs. Hyper-V Containers will make it possible to do nested virtualization within Hyper-V. New PowerShell cmdlets provide an alternative to Docker commands to manage your containers (see Figure 1).
Container images are built against a specific operating system. This means you'll need a Linux virtual machine to run a Linux container image on Windows. Windows Server Containers will be an embedded feature of Windows Server 2016 and work with the Docker ecosystem out of the box. Microsoft is using GitHub for posting Windows versions of the different Docker components and encourages participation from the developer community.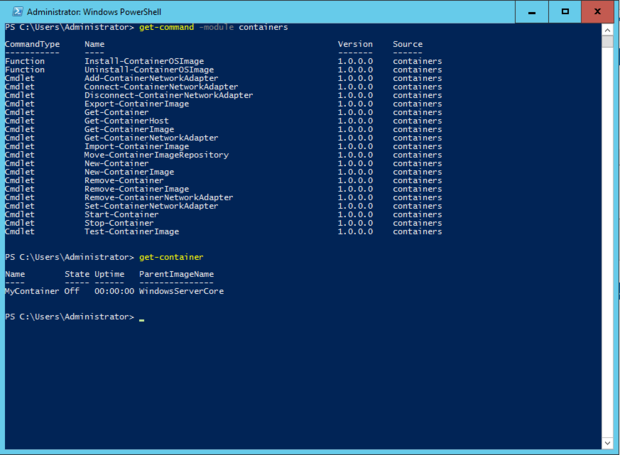 Figure 1: You can manage Windows Server Containers (and Hyper-V Containers when they arrive) through native Docker commands or through PowerShell (shown).
Nano Server
Refactoring is the process of analyzing an existing code base with an eye toward simplification. Nano is the end result of Microsoft refactoring the core pieces of Windows Server to its minimally functional state. It's so minimal, in fact, that it doesn't have any direct user interface besides the new Emergency Management console. A Nano instance is managed remotely using Windows PowerShell, or other tools, to include the process of adding new roles.
A Nano instance consumes not much more than 512MB of disk space and less than 256MB of memory, depending on your configuration. This will make a huge difference for all virtual machines built on top of Nano, which will function as an infrastructure host installed on bare metal and as a guest OS running as a virtualized machine. New in Technical Preview 3 is an Emergency Management Console that allows you to view and fix networking issues directly from the Nano Server console. Nano Azure VM instances can be created with a Microsoft-supplied PowerShell script and now support running ASP.Net v5 applications using CoreCLR.
Storage Replica
Microsoft has supported replication in the world of Hyper-V, but it has been limited up to this point to asynchronous replication of virtual hard disks. That changes with Windows Server 2016, as you now have the ability to replicate entire volumes at the block level. Further, you can choose between synchronous and asynchronous replication.
This feature, called Storage Replica, is primarily aimed at disaster recovery scenarios where a "hot" backup is needed for a quick fail-over in case of a major catastrophe. Both server-to-server and cluster-to-cluster replication are supported.